We are pleased to announce that a partnership was formed between our company and Messrs. C.A.S.C.O.-HEMIKSEM B.V.B.A. in Hemiksem, with the intent to start building luxury motor yachts.
Messrs. C.A.S.C.O.-HEMIKSEM B.V.B.A. are shipbuilders with a wide range of experience, from building commercial cargo vessels to special purpose vessels, dredgers, floating cranes, floating dry-docks, barges, fishing vessels, patrol boats and even tall ships.
They dispose of a shipyard less than 15 km from the historical centre of Antwerp, on the bank of the River Scheldt in Hemiksem. They have a slipway of 140 m, served by 2 large conventional cranes of 20 T SWL each and an overhead crane of 40 T SWL. At the site are 2 construction halls of 1.700 and 1.000 m², where the yachts would be built. Furthermore there is ample room to expand the facilities in the future.
Attached you will find an areal view of the yard and its facilities.
Our company is acting as the project manager in this partnership. More than 25 years worldwide experience in Marine Surveying results in a very service oriented attitude towards all our clients. One of the examples is that the Undersigned speaks Dutch, French, English, German and Spanish fluently, since clear communication is one of the basic components of any good working relationship. 24/7 Availability is also customary in our business.
We aim to start building a line of 110'/33,5 m semi-custom luxury motor yachts shortly. As the designer we have chosen Ed Dubois Naval Architects, because we were impressed with the elegant lines and functionality of M/Y SQN, on which he gave us a tour on the Monaco Yacht show.
The yachts would be displacement yachts with a transatlantic range. The hull would be built in steel and the superstructure in aluminium.
They would accommodate up to 11 passengers in 5 guest rooms and 6 crew in 3 cabins, all en-suite.
The yachts will be classed under Germanische Lloyd and will also be MCA compliant.
The yachts will be fitted with the latest state of the art navigation electronics in an integrated bridge system and the latest in entertainment systems in the accommodation.
The design stage is halted at this moment to give the owner of hull no. 1 some leverage in the layout of the yacht, and possibly determine several crucial items of the yacht line.
The hull and engineering work will be performed by Messrs. C.A.S.C.O.-HEMIKSEM B.V.B.A. as much as possible, yet the finishing e.g. coating, A/C, electronics, interior, etc. will be performed by high quality Dutch subcontractors. This will guarantee a quality standard equal to any Dutch yacht builder.
The yacht line will be offered for sale by a company in Monaco, which is being founded shortly, and the Central Agent for the sale will also be DUBOIS YACHT BROKERS.
Hulls 1 and 2 will be offered at introductory prices, under some conditions.
Our main advantage is the fact that we can start building at very short notice, and we aim to deliver our first yacht mid 2007.
Depending on the circumstances, we would also consider building a custom project.
We would appreciate if you could mention our new partnership in your excellent publication, and remain at your entire disposal for any additional information you may require.
We wish you a safe receipt of this letter and its attachments and remain,
Yours faithfully,
Christiaan BRANS
Managing Director
---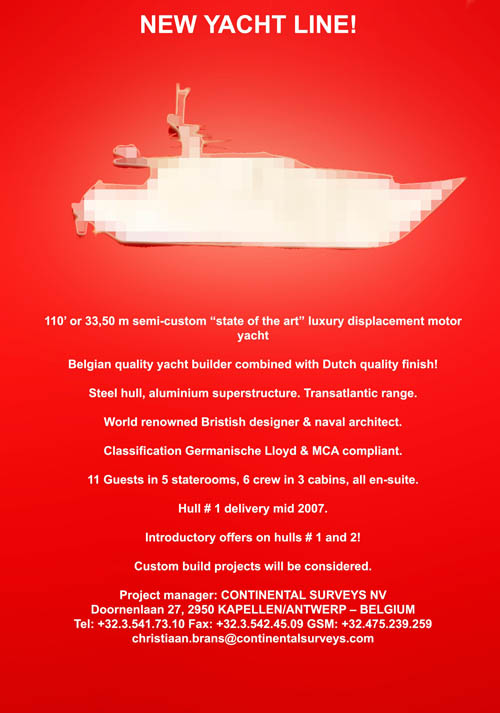 ---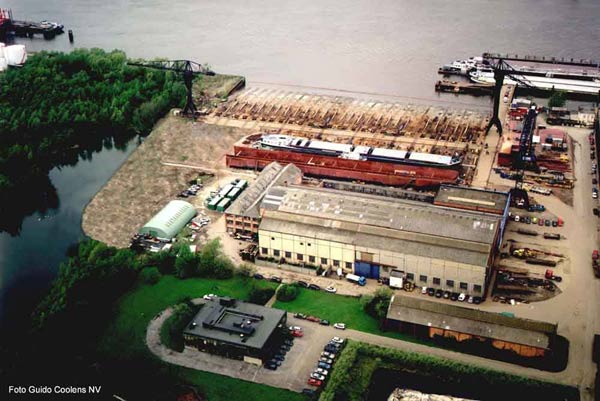 ---
Article in BOAT INTERNATIONAL August 2006 (click for full image)